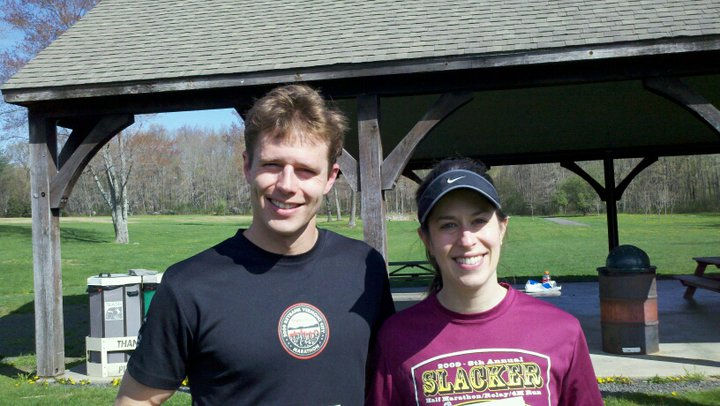 Race Report by Mary Schafer
Roxbury Races Report


A gorgeous spring morning presented itself for the Larry Kershnar Mid-spring Challenge--the 4.3 mile Highbridge to River Roads. Our race course passed over River Road just before the road crew got to work. This week's winners, Jeff Sheldon in 26:18 and Mary Schafer in 32:50, took home fabulous prizes. Overheard at the starting line: "Who is that?" "I don't know, it looks like Jeff, but with those bare arms I can't be sure." Thanks to Dirk for documenting everyone's pain at the finish line. See the photos on FB.
A small turnout this week which leads this writer to one conclusion: cheapskates, all of you. Though we did hear through the grapevine that there were a few conflicting events. Hint: if you were running another race on Saturday, please send a race report, a la LeeAnne (see below). Chuck finally had the nerve to come back this week, after recovering from an insidious bathroom tiling accident. Long story short, crushed nerves result when you don't have the proper tools for the job. And really, why retile a bathroom that won't appreciate it anyway? John sported some impressive bandages on his forehead, but luckily there was no brain damage. And you should see what happened to the other guy. Nice run by Jeff B who crushed it up the final hills.
Delaware Trail Marathon race report from LeeAnne: "Put on by a running group called Trail Dawgs- this was a really pretty course in White Clay Creek State Park in Newark Delaware. Believe it or not, there are hills in Delaware, as we(Charlie Euston- did the half) and I(did the whole) found out! This was my first trail marathon and hopefully not my last. I don't even know what my time was except it is a bit over 8 hours. Really great medal, shirt and coffee mug. Nice people. Well organized(this was especially important as there was also a 5K, and 10K and some people did a half, 10K, and 5K for an event called Triple Crown, otherwise known as Triple Death). I would really recommend this one and it came highly recommended to me by other Roxbury runners who have run it in past years. We had no injuries although I could not stand up straight until 2 pm today due to lower back stiffness and soreness. I hope some others will tell about their races. We had a regular column like this in my running club in N.J."
Hear that slackers??? LeeAnne says send in your race reports! I know you ran Boston and Gansett Marathons, Southbury race, and Leathermans.
Finally, a message from Dirk Feather:
Hi Everyone, As you may have heard I have been training for a marathon for the last 4 months. You may not have heard why. I am raising money for the Dana Farber Cancer Institute to help find a cure. My sister in-law Sarah is losing the fight with cancer and this is the best way that I thought I could help as they live so far away. As of this morning I have raised $3194.40 toward my goal of $5000.00. Every donation helps fund innovative cancer research and puts a smile on Sarahs face.
Click this link or copy and paste into your browser to donate. http://www.rundanafarber.org/2011/dirkfeather I will be at the Roxbury race next Saturday if folks prefer to donate by check. You can follow Sarahs blog here: http://carcinista.com/
Thank you in advance,
Dirk Feather

P.S. Anyone can apply to Dana Farbers Boston Marathon program. So if you want to run Boston and can't qualify this is one more opportunity.
Look forward to seeing everyone next week for the (free!) 4.2 mile Hemlock/Ranney combo. See you there!
Race Results
Roxbury Race Series 2011 - Race #11 - April 30 - 4.3 miles - High Bridge to River
Larry Kershnar MidSpring Challenge
place
name
age
time
pace per mile
1
Jeff Sheldon
31
26.18
6.07
2
Louis Garguilo
33
27.33
6.24
3
Pete Scannell
26
27.37
6.25
4
Pete Gillen
28
28.06
6.32
5
Mike Abraham
51
29.00
6.45
6
Kevin McCullough
46
29.48
6.56
7
Chuck Rocca
38
30.27
7.05
8
Eric Koenig
31
30.38
7.07
9
Joe Dolen
56
30.39
7.08
10
Steve Cognato
43
30.57
7.12
11
John A. Adomelis
56
31.26
7.19
12
Nate Mahrer
39
31.48
7.24
13
Larry Deming
53
32.09
7.29
14
Ross Levy
60
32.12
7.29
15
Tony DaSilva
48
32.13
7.30
16
Jeffrey Bishop
30
32.41
7.36
17
Mary Schafer
36
32.50
7.38
18
John Kane
59
33.16
7.44
19
Steve
33
33.46
7.51
20
Steve Lauben
45
33.54
7.53
21
Stephanie Bennett
41
34.00
7.54
22
Blake Carrigan
10
34.39
8.03
23
Peter Tep
34.46
8.05
24
Bill Euerle
66
34.56
8.07
25
Ryan Carrigan
42
35.33
8.16
26
Bob Lewis
46
35.37
8.17
27
Krystal Koenig
28
35.40
8.18
28
Kim Cognato
42
35.43
8.18
29
Lynn Zuback
45
36.00
8.22
30
Emily Davis
26
36.12
8.25
31
Scott Benjamin
53
36.28
8.29
32
Whitney Goodman
28
36.58
8.36
33
Cathy Racz
46
37.07
8.38
34
Dan Lynch
49
37.23
8.42
35
Bob Satterlee
62
38.37
8.59
36
Dan Ambruso
41
38.46
9.01
37
Mario Hasz
62
38.58
9.04
38
Kateri Danay
13
39.14
9.07
39
Keith Dupree
68
39.35
9.12
40
Kathy Creighton
54
40.02
9.19
41
Wendy Carlson
40.43
9.28
42
Janet Levy
57
42.06
9.47
43
Jim Little
57
43.07
10.02
44
Marissa Bishop
29
52.39
12.15
<![if supportMisalignedColumns]> <![endif]>
If anyone has photos of the races, send 'em to chris (at) beatfrequencies (dot) com and I'll try to put them up here on these pages...or better yet...
join the Roxbury Races Facebook group and you can post them there yourself!
Roxbury Races Facebook Group