Hall of Fame Induction message from David DeBoy
Race Report by Mary Schafer
Boston. New York. London. The Roxbury Bill Burley Mid Summer Championship. For certain events one must pull out all the stops and July 16th's event was no exception. This race had everything: a disc jockey (thank you Rob), the Star Spangled Banner (thank you Amber Cardinal), a Hall of Fame induction ceremony (congrats David DeBoy, Kerry Cardinal and Steve Johnson), a five dollar entry fee, two water stations (was that Elvis at the second one?), a Prefontaine t-shirt and last but not least, bandanas. When a runner wears sunglasses, knee tape and a bandana, you can know that he is playing for keeps... and that nothing can embarrass him.
Congratulations to our winners, Craig Hunt and Shaina Short, who captured male and female laurels. Craig covered the challenging course at a pace of 5:49 and was chased by two other sub six minute finishers including his brother. Shaina is making her mark on Roxbury with three consecutive wins. Farther back we had some individual battles. Did Jeff have the ability to break a seven minute pace? Yes, with a 6:60 average. Did Nate have enough in the tank to overtake Larry at the finish? No. Did Krystal have enough to beat Paul? Do we need to ask?
For runners new to Roxbury, welcome! Feel free to tag along for a warm up or cool down run with any one of the groups and to join people afterwards at the Roxbury Market for breakfast.
Next week's course will cover the same terrain in reverse.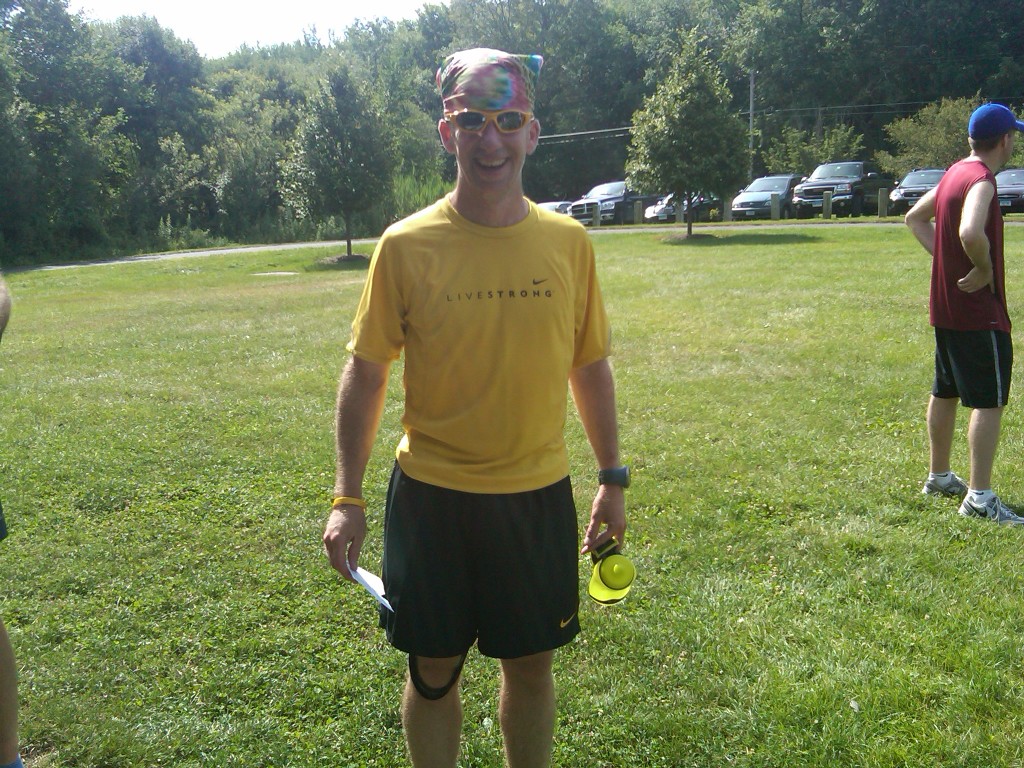 Race Results
Roxbury Race Series 2011 - Race #22 - July 16 - 5 Miles
Squire Road:

 

Apple Lane - South St - Squire Rd - Apple Lane
Bill Burley Mid-Summer Championship
place
name
age
time
pace
1
Craig Hunt
20
29.07
5.49
2
David Hunt
24
29.24
5.53
3
Desmond O'Grady
31
29.40
5.56
4
Joel Anderson
19
30.30
6.06
5
Jeff Sheldon
31
30.56
6.11
6
Chris Deming
44
31.34
6.19
7
Eric Krebs
42
32.03
6.25
8
Brian Vanderheiden
41
32.27
6.29
9
Scott Holmes
49
33.37
6.43
10
Max Vargas
25
33.39
6.44
11
Mike Abraham
52
33.40
6.44
12
Kevin McCullough
46
33.53
6.47
13
Joe Mendes
45
34.05
6.49
14
Shaina Short
24
34.38
6.56
15
Steve Benoit
58
34.55
6.59
16
Jeff Tindell
61
34.59
6.60
17
Alan Peck
43
35.04
7.01
18
Eric Koenig
31
35.11
7.02
19
Nelson Azevedo
52
35.44
7.09
20
Chris LaCava
37
36.03
7.13
21
James Dabbo
29
36.15
7.15
22
Ryan Carrigan
42
36.39
7.20
23
Tom McNulty
45
37.19
7.28
24
Ross Levy
60
37.35
7.31
25
Chris Norris
42
37.44
7.33
26
Larry Deming
54
37.52
7.34
27
Nate Mahrer
39
37.52
7.34
28
Jim Frey
42
37.57
7.35
29
Luke Farrell
23
38.10
7.38
30
Russ Pribanic
57
38.14
7.39
31
Luken Hartlage
49
38.58
7.48
32
Dirk Feather
36
39.46
7.57
33
Jeffrey Bishop
30
39.49
7.58
34
Michael Lennon
46
41.07
8.13
35
Ben Mattheis
57
41.17
8.15
36
Cindy Scannell
53
41.33
8.19
37
Costas Drakatos
52
42.06
8.25
38
Krystal Koenig
28
42.14
8.27
39
Paul Butler
53
42.24
8.29
40
Harry Ong
71
42.32
8.30
41
Bob Lewis
46
42.43
8.33
42
Bill Euerle
66
43.00
8.36
43
Matt Farrell
58
43.20
8.40
44
Gabrielle West
24
44.39
8.56
45
Steve
33
44.46
8.57
46
Kateri Danay
13
44.54
8.59
47
Kendra Lennon
14
45.24
9.05
48
Scott Benjamin
53
45.44
9.09
49
Blake Carrigan
10
46.16
9.15
50
Mario Hasz
62
46.37
9.19
51
Dan Ambruso
41
47.14
9.27
52
Janet Levy
57
47.39
9.32
53
Luke Paparazzo
52
47.40
9.32
54
Sharon Gawe
58
47.45
9.33
55
Keith Dupree
68
48.42
9.44
56
Christine Maloney
37
48.59
9.48
57
Chris Powderly
59
51.04
10.13
58
Melinda Papowitz
46
51.11
10.14
59
Kerry Cardinal
46
52.06
10.25
60
Kelly Cardinal
42
52.06
10.25
61
Bob Satterlee
62
52.16
10.27
62
Rich Deanne
48
52.51
10.34
63
Aurelia Boyer
57
53.40
10.44
64
Kaitlin Smith
13
55.41
11.08
65
Molly Mercier
13
55.44
11.09
66
Emily Deanne
16
59.16
11.51
67
Brianna Goldstein
16
59.17
11.51
Alternate Courses
place
name
age
distance
time
68
Joseph Danay
48
2.40
27.18
69
Amber Cardinal
14
?
?
70
Evan Cardinal
9
?
?
<![if supportMisalignedColumns]> <![endif]>
If anyone has photos of the races, send 'em to chris (at) beatfrequencies (dot) com and I'll try to put them up here on these pages...or better yet...
join the Roxbury Races Facebook group and you can post them there yourself!
Roxbury Races Facebook Group