Race Report by Mary Schafer
This week, we ran the 3 Mile Roxbury Race for Open Space at the Roxbury Pond. Winners were "I know that we are young, And I know that you may love me, But I just can't be with you like this anymore" Alejandro Abella in 17:16 and Mary Schafer in 21:33.
There was a Norris, not Chuck, incognito. Though if you were roundhouse kicked sometime during the race, you already know this. Sock fashion impressive on both Eric and Kateri. Yet another But(ler)-less race this week. We're beginning to wonder if Paul found someone else more willing to bring him coffee. Great to see an expanded team LoSacco out this week. Perhaps they will challenge the McCulloughs for world domination? Welcome back to Kim, who has been away for a year with plantar facitis. Welcome back to Steve, who is getting back to running now that he is adjusting to being a parent. (FYI: his offspring has 80s rocker worthy hair.) Thanks, Jeff, for sharing, "I hate wearing pants." We're wondering what Marissa thinks of this? Also, the knee socks are nice. Combine them with a bandana, knee tape, and a breathe right strip and you've got a Vander-fecta. And since we're speaking of Brian, what's with the cap? Its not even cold yet! We think you're just showing off your snappy, all-season wardrobe. Unconfirmed rumor that the Abrahams welcomed Baby #2 this past week. Can anyone confirm/deny? Also, we have heard from a former student that Mike can talk without stretching, though s/he admits to not paying very close attention during most of high school.
Congratulations to everyone who ran the King of the Hill, the Southbury Classic, and any of the many other races going on this week.
Next week, we honor Ed Sandifer with the annual Roxbury Handicap 2.4 mile race. See you then! Also, if you haven't seen already, Ed is being inducted into the Western New England Hall of Fame. Read about him here: http://www.masslive.com/sports/index.ssf/2011/09/ed_sandifer_to_be_inducted_int.html
Finally, the Roxbury Half Marathon is scheduled for November 12. We will need about 15 volunteers to help with registration, water stops, and as course marshals. If you would like to volunteer, please email, FB, or talk to Mary. (ubergirl17 at yahoo dot com) Thanks, Dirk, for being the first to volunteer!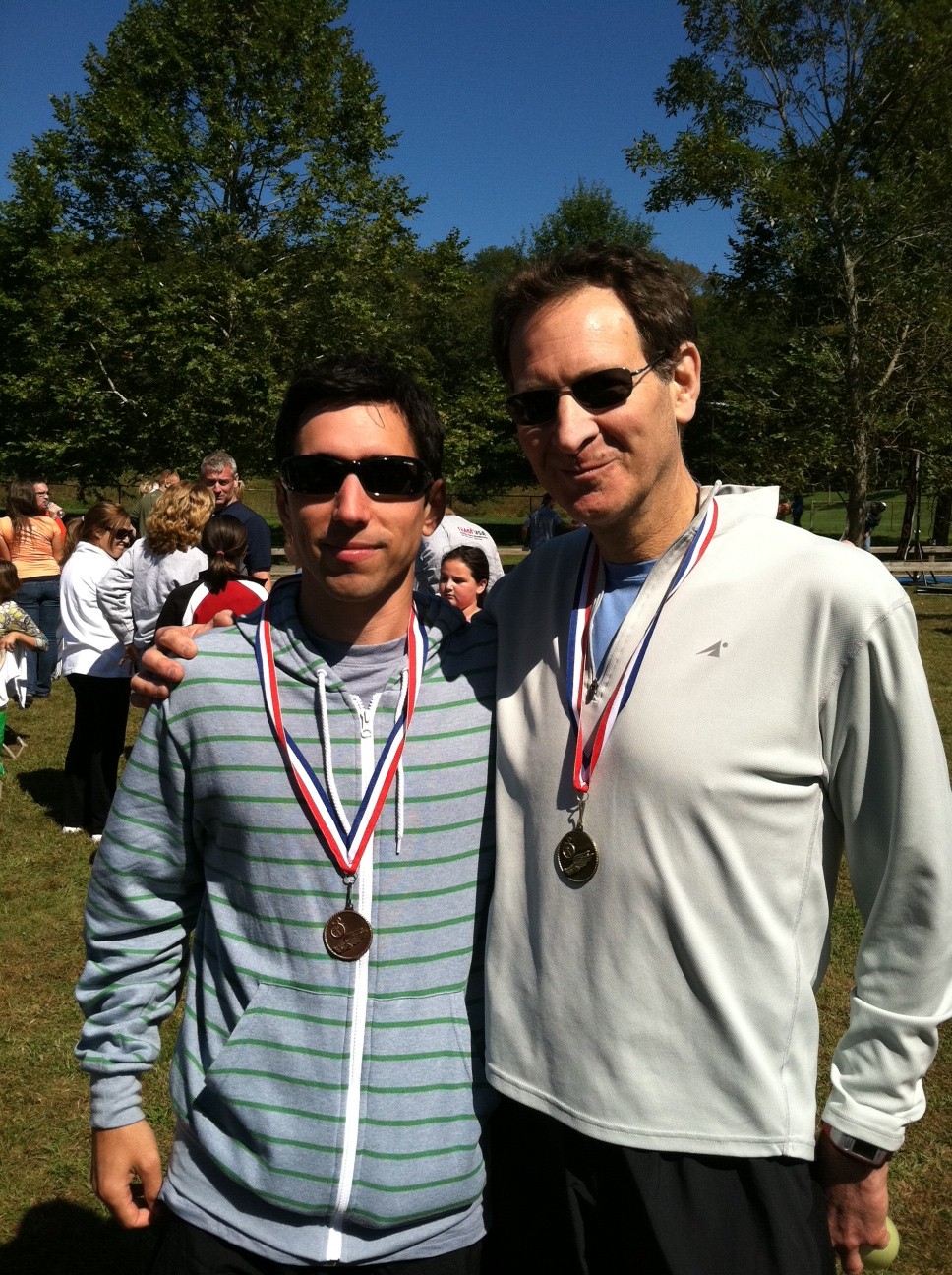 Roxy's finest representin' at southbury classic
Race Results
Roxbury Race Series 2011 - Race #30 - September 17 - 3 Miles
River Road Preserve
place
name
age
time
pace
1
Alejandro Abella
32
17.16
5.45
2
Stosh Davis
13
17.37
5.52
3
Chris Deming
44
18.41
6.14
4
Brian Vanderheiden
41
18.42
6.14
5
Mike Abraham
52
18.46
6.15
6
Joe Mendes
45
19.30
6.30
7
Eric Koenig
31
20.10
6.43
8
Chuck Rocca
38
20.20
6.47
9
Steve Haas
56
20.29
6.50
10
Steve Benoit
59
20.33
6.51
11
Nate Mahrer
39
20.36
6.52
12
Kevin McCullough
46
21.01
7.00
13
Larry Deming
54
21.28
7.09
14
Mary Schafer
37
21.33
7.11
15
Jeff Tindell
61
21.35
7.12
16
Baerbel LoSacco
39
21.36
7.12
17
Ross Levy
60
21.51
7.17
18
Jeffrey Bishop
30
22.21
7.27
19
Don Smith
67
22.32
7.31
20
Scott Benjamin
53
22.42
7.34
21
Dave Wolfe
47
23.10
7.43
22
Costas Drakatos
52
23.22
7.47
23
Jeppe Christiansen
48
23.29
7.50
24
Kateri Danay
13
23.36
7.52
25
Harry Ong
71
23.39
7.53
26
Bill Euerle
67
23.49
7.56
27
Bob Lewis
46
24.22
8.07
28
Emily Davis
27
24.24
8.08
29
Steve
33
24.37
8.12
30
Krystal Koenig
28
24.45
8.15
31
Kristine Dziezynski
41
25.15
8.25
32
Bob Satterlee
62
26.25
8.48
33
Damian McCullough
12
26.39
8.53
34
Chris Powderly
59
26.41
8.54
35
Mario Hasz
63
26.51
8.57
36
Sharon Gawe
59
27.55
9.18
37
Janet Levy
57
27.55
9.18
38
Dirk Feather
36
27.58
9.19
39
Mary McCullough
10
30.18
10.06
40
Catherine Mendes
13
30.22
10.07
41
Charlie Euston
67
30.34
10.11
42
Erik LoSacco
8
31.48
10.36
43
Mark LoSacco
42
31.50
10.37
44
Kim Pollard
30
35.37
11.52
45
Marissa Bishop
30
35.56
11.59
<![if supportMisalignedColumns]> <![endif]>
If anyone has photos of the races, send 'em to chris (at) beatfrequencies (dot) com and I'll try to put them up here on these pages...or better yet...
join the Roxbury Races Facebook group and you can post them there yourself!
Roxbury Races Facebook Group